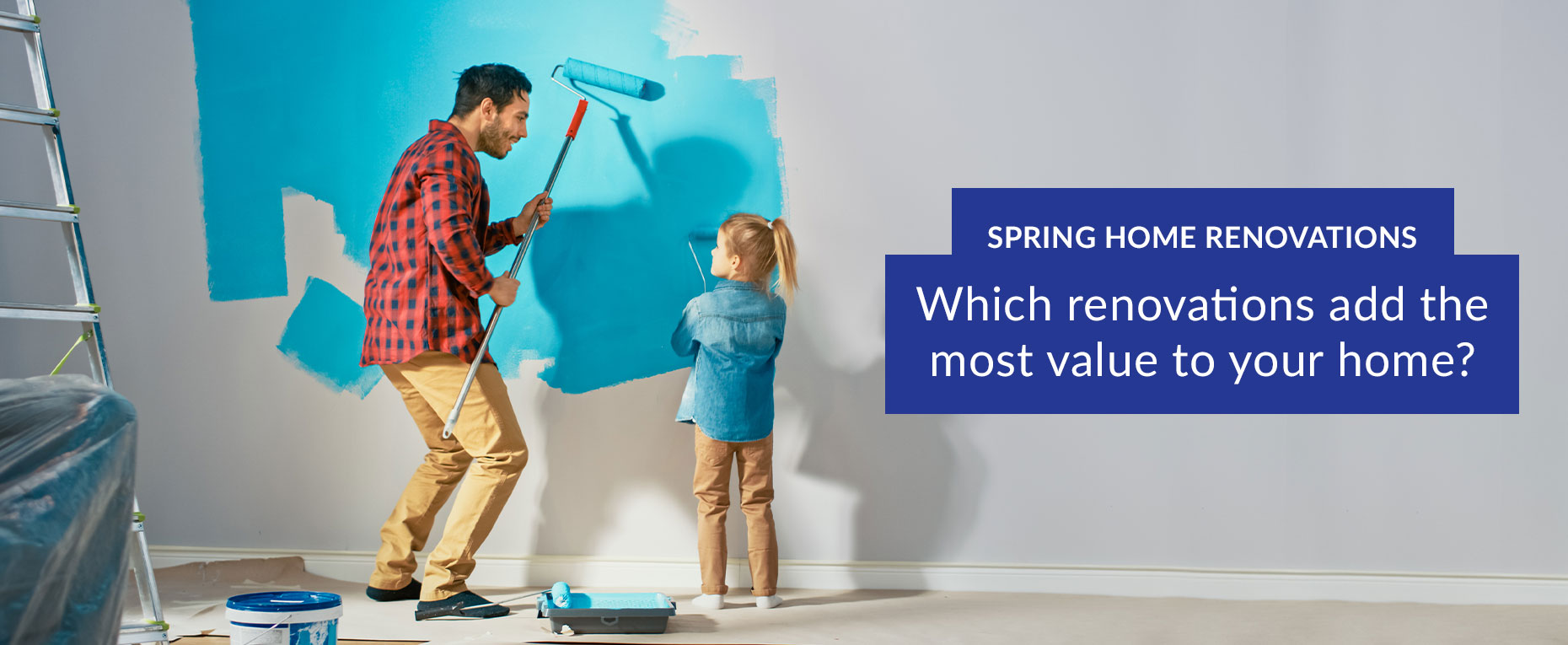 Spring Home Renovations - which renovations add the most value to your home?
Home renovations can IMPROVE your QUALITY OF LIFE tremendously, but certain renovations can actually ADD VALUE more than others when it's time to sell or refinance!
Get In Touch With Our Home Renovation Mortgage Experts Here!
If you're like us, you're ready to give your home a face lift!
Spring has finally arrived in Ontario and The House Team in Belleville couldn't be more excited!
This is home renovations season, which means it's time for homeowners, first time home buyers and Fixer Upper Enthusiasts to start dreaming and remodelling!
Whether you're buying a fixer upper this spring, upgrading your existing home or preparing your home to be sold, renovations can boost your home's value instantly! They also go STRAIGHT TO YOUR BOTTOM LINE!
But how do you know which home renovations add the most value to your home?
Below is a list of the top 4 home renovations with the highest ROI, according to the Appraisal Institute of Canada (AIC).
Top 4 Home Renovations With The Highest ROI (Return On Investment):
Updated Kitchen
Bathroom Renovations
Fresh Paint
Refreshed Home Decor (Lighting, plumbing, countertops, flooring etc.)
Did you know that The House Team can not only help you choose the best home renovations to increase your home's value, but also support you with financing opportunities along the way?
Our mission is to improve your quality of life, help you achieve your homeownership goals and provide you with the financial support necessary to make your dreams a reality!
Realistic and Affordable Home Renovations
The Best Home Renovations When Selling Your House
Are you preparing your home for the seller's market this spring? Here's some important factors to consider!
Keep in mind that homebuyers look at more than just the house itself when purchasing a home.
For example, families are looking for safe neighbourhoods. New couples are looking for affordable housing. Toronto buyers are looking for spacious lots, scenic nature and improved quality of life in a more rural area.
When deciding on which renovations to complete, make sure that they will not ultimately price your house right out of your neighbourhood. This could hurt your ROI in the long run!
If you are planning on putting your house on the market this spring, focus on reasonable updates that have wide-ranging appeal. These kinds of renovations can help showcase the features of your home!
Replace your windows
Finish your basement
Replace age-old flooring
Install new countertops
Remodel your front porch
The Best Home Renovations When Renovating A Fixer Upper House
Before you make that fixer upper home purchase, it's imperative that you assess whether you will get a reasonable ROI. Our financial advice for fixer-upper home renovations to pick projects that pay!
The ideal fixer-upper home is that gorgeous century home with minimal cosmetic improvements (ie. paint touch-ups, floor refinishing, minor repairs). Typically, these types of renovations cost less than they return in market value - especially in today's housing market!
Affordable Cosmetic Improvements For Fixer-Uppers:
New Lighting Fixture Installations
New Paint
New Garage Door Installation
New Siding
New Kitchen Cabinets
If you are purchasing a fixer-upper home that requires more structural renovations, such as a new roof, it's important to keep in mind what the resale value is in relation to your remodelling investments.
Home Renovation Tip: Your home renovations should not increase the overall value of your home more than 10-15% above the average sale price of other houses in your neighbourhood (National Association of Home Builders).
The Best Home Renovations For Long-Time Homeowners
Of course, it's also important to budget for those renovations that are necessary just to maintain your home's worth.
According to the AIC, it's essential to:
Replace the roof,
Update heating/cooling systems,
Replace windows/doors and
Update your home's electrical as each nears the end of their life expectancy.
The AIC also lists finishing the basement, garage improvements, decks and fences, and landscaping as the top renovations that generally offer the highest home enjoyment value.
Sunrooms and other additions are also on this list. Today, so many homeowners are looking at improving the functionality of their homes with the much-needed home office and modifications for aging parents.
Financing Your Home Renovations For Buyers, Sellers and Fixer-Uppers
It is often less expensive to renovate than it is to move since you avoid expensive costs like legal fees and land transfer tax.
The House Team in Belleville, Ontario can help you finance your renovation project so that you can maximize your bottom line and personal home enjoyment.
Renovation Financing Options:
There are many options available when looking into the remodelling of your home. We can help set you up with the best financial solution for your renovation needs this spring!
Mortgage refinancing
Home equity line of credit
Second mortgage OR
Personal loans
If you're buying and planning immediate renovations, we can also bundle the cost of your project right into your mortgage!

So, instead of sky-high credit card bills, you'll have your mortgage and renovations looked after in one easy monthly payment. You can then use your prepayment privileges to pay the mortgage off even faster.

Ready to spring into home renovations? Contact us today at (866) 559-5016 or Fill In The Form below to get in touch with our Mortgage Team about your home renovations and financing opportunities.