Building Your Own Home With A Construction Mortgage in Belleville, Ontario
Are you planning on building your dream home this spring? We can help! The House Team in Belleville, Ontario, offers construction financing for new home-builds throughout Quinte and Kawartha Lakes. If you're planning a self-build or hiring out your own trades, this is the construction mortgage you need.
Contact Our Construction Mortgage Experts
How do you find your dream home? You build it yourself!
Many homeowners prefer to purchase a pre-built home and move right in upon closing...but that's not for everyone! Some first time home buyers or recent sellers are looking for more than just a house that fits their needs. They're looking for their DREAM HOME!
Turns out, it's not as hard as it looks! And with construction financing options available, it may be easier than ever to build your dream.
The best part? You don't have to wait two years for a construction company to fit your project in! You can START RIGHT AWAY!
What Is A Construction Mortgage?
A construction mortgage could be the key to affording your dream home right now. Why? Because it doesn't involve a massive down payment all at once!
Using a construction mortgage, otherwise known as a builder's mortgage, allows you to receive your construction financing in stages. The full amount required to complete your dream home is actually provided in "draws" based on building progression.
The first step in obtaining your construction mortgage is to GET APPROVED! Thankfully, that's what we do! The House Team can get you both approved and set up with a Home Construction Mortgage in Belleville, Peterborough or surrounding areas this spring!
CLICK HERE and get approved to start your home construction project right away.
Here's How A Construction Mortgage Works:
So how does a construction mortgage work? Simple! Like we mentioned above, it works in stages, known as "draws".
Construction financing draws are first calculated based on the completed value of your home. As you complete certain stages of your home construction project, you receive a particular draw of that completed value. This option allows you to receive 80% of your home's value along the way!
How Does Interest On A Construction Mortgage Work?
No interest payments are required during the process. These interest payments are calculated and taken out of each draw along the way. As you draw the funds, the interest will increase.
The Typical Phases Of Home Construction:
All draws are based on the percentage completion of your construction. Where are you in the process?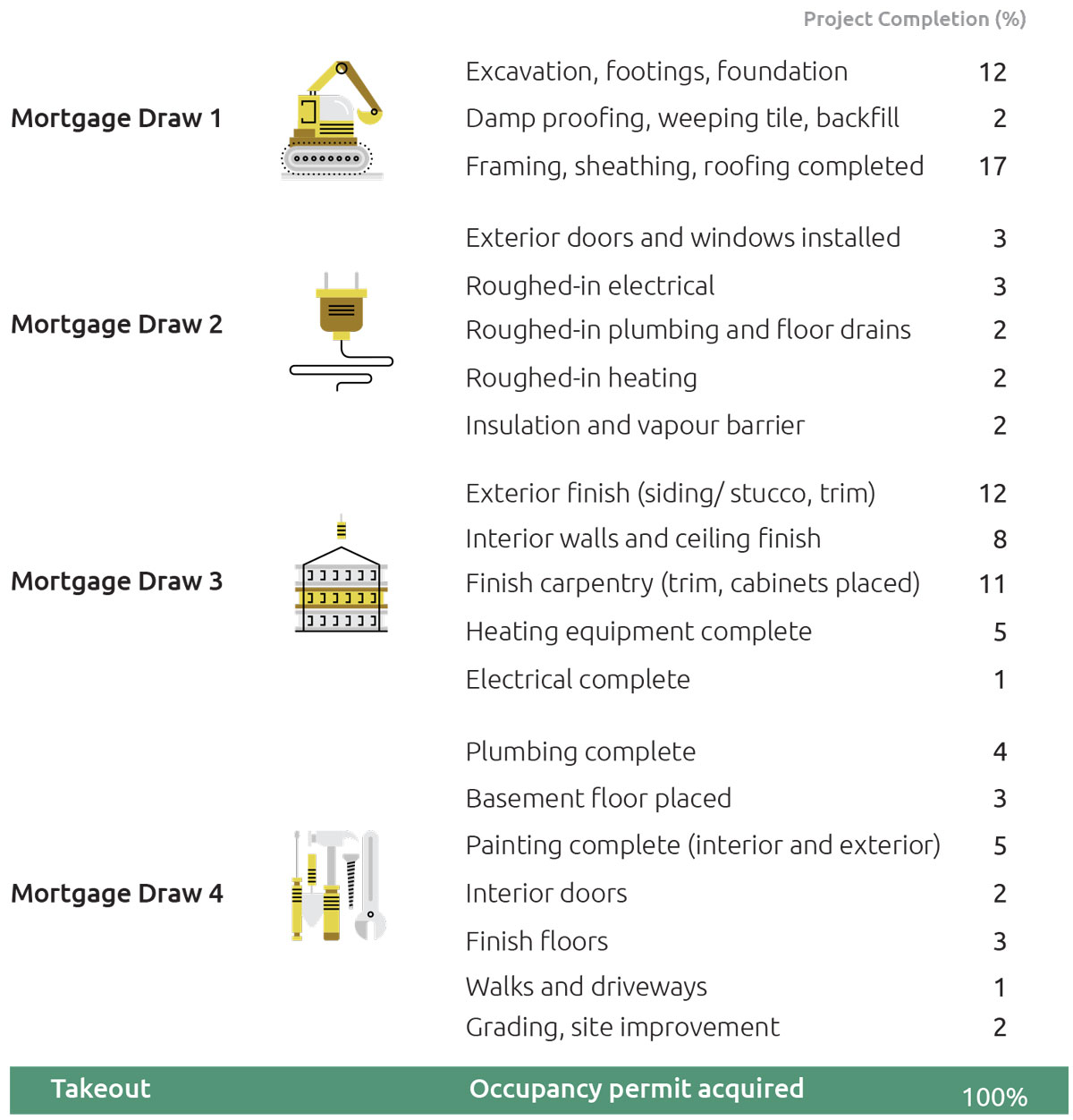 5 Reasons To Build Your Dream Home Yourself:
1. Sweat Equity
Are you a tradesperson yourself? With a construction mortgage, you get what you put into your home build without added labour costs.
2. COVID Friendly
Home construction companies are pretty backed up right now with projects scheduled out for up to two years. Instead of waiting two years for your dream home, you can start right away!
Building your own home or hiring tradespeople within your COVID-bubble is a great way to keep your home project going throughout the changing COVID landscape as well.
3. Opportunity For A Quick Build
Building your dream home yourself might be the best solution if you are planning on a fast turnaround. With a self-build you can be in your brand new home within 4-6 months of breaking ground!
4. Custom Built Home
A custom built home that fits your EXACT vision - now that's the dream! When you build a custom home, you have the opportunity to design your house exactly the way you want.
5. You Get Your HST Rebate!
When you build your own home with a construction mortgage, you get up to $17,000 of your HST rebate.
Perhaps you own your own land or want to buy property, rather than an existing home. If so, congratulations on starting this exciting adventure!
Building from the ground up is a great experience - ask Peter House! He's built quite a few homes with a construction mortgage and will happily tell you all about the pros and cons!

Obtain A Home Construction Mortgage In Quinte or Kawartha Lakes
Construction financing doesn't have to be stressful - we make it easy! The benefit of draw mortgages is that you don't have to front the money right away. A construction mortgage allows for a safe and progressive option.
Not sure how to obtain a home construction mortgage in Belleville, Ontario? Contact the mortgage experts at The House Team and begin your approval process right away!